Regular listeners of The Thing About Cars will know that since the beginning of the show, I've been driving a Mazda and loving it. Unfortunately, in late December of 2021 that Mazda got totaled. It was a 2013 Mazda 3 hatchback in the top-of-the-line iGrand Touring trim level. I'd bought it gently used in 2015 with under 15K miles on it and it still looked and smelled new. It was the nicest car I'd ever bought and was a replacement for a decrepit VW Golf that was on its last legs. I loved that Mazda from the beginning and it served well until that day in December. It had 105K miles by then and was still in great shape and had lots of life left in it, but that was not to be. It was the third car in a four-car chain-reaction collision caused by a hit-and-run driver.
Since I hadn't been planning to buy a car, I knew that spending the money would be a shock- especially in the really bad market conditions of early 2022. Due to Covid-related issues with supply chains, new cars were in short supply and that means that the demand for used cars was higher and the cars sold for higher prices. But after a few weeks of my wife and I relying on one car, it became apparent that life really would be better with two cars again. Driving me to the airport early on Monday mornings was starting to get old, so into the market I went.
One thing that disappointed me about the Mazda 3 is that the 2013 model-year was, in my opinion, the best year for the hatchback version. I've always liked hatchbacks for their practicality, often able to haul surprising amounts of cargo. For the 2014 model-year, Mazda introduced a new generation of the 3 and in this generation the hatchback just wasn't as cargo-friendly: the hatch was smaller and the top of its opening was lower, and the compartment floor didn't seem as tough as before. The current version seems to have continued this trend, so another 3 hatchback was out. Hatchbacks are a dying breed in the US market overall, the manufacturers eager to divert us into higher-priced SUVs, of which I'm not a fan. But with so few choices, I figured I'd better not rule out any possibilities.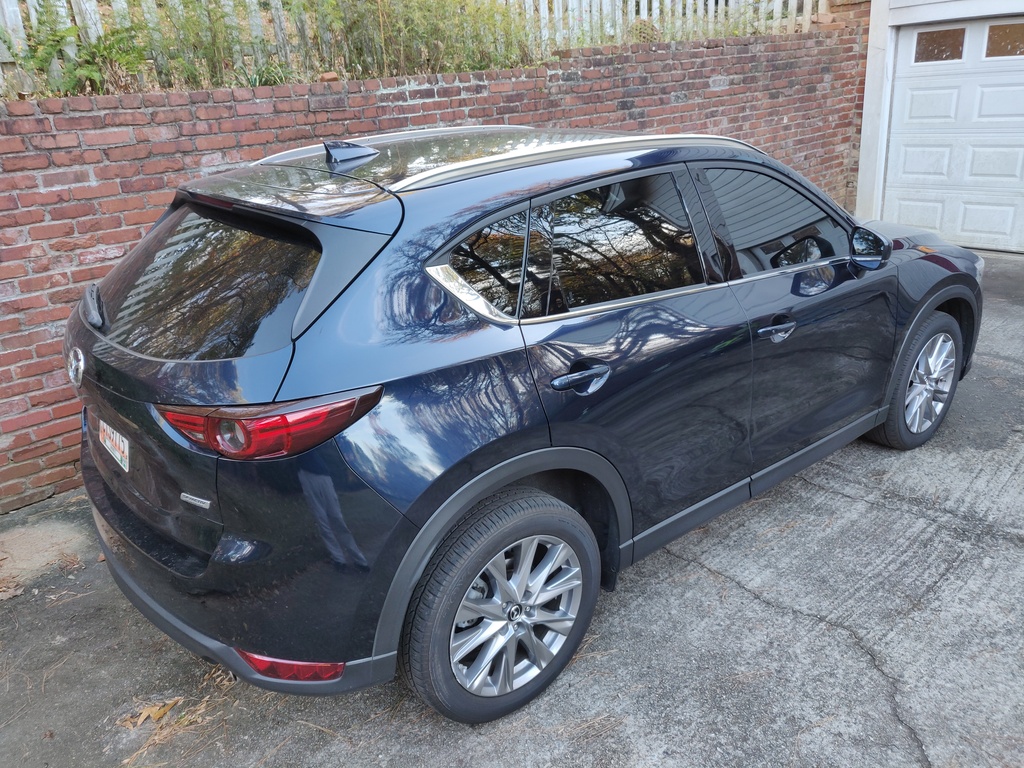 I loved my 3 and Mazda is #1 in reliability in the USA, so looking at other models seemed like a good idea. At present Mazda only offers five models in most of the U.S. Market, and it didn't take long to figure out that the CX-5 was my best choice. In a way though this is kind of a shame, because the CX-30 is closer in external size to my old 3, but the ways the body and interiour are designed don't work well for tall people. It's not that it's cramped or lacking for headroom, not at all- but things aren't optimally placed or proportioned for anybody who will have the seat adjusted far back and down. So after doing some homework to know more about what I'd be looking at, I started looking at CX-5s. New was most likely out of the question, but if I could afford gently-used then I figured I could still find something to make me happy.
This last comment on shopping for gently-used brings up another point, what strategy to employ when shopping for a used car in these crazy times. Since the price of used cars is high, one strategy is to buy as little car as you can now and buy more later when the market returns to rationality. I think a better strategy is to buy as much car as you can afford and get the most life out of it that you can, planning to keep it until it dies. This is what I usually do anyway, so that was an easy decision and I think is probably more cost-effective in the long run.
So which CX-5 to get? Mazda changes the trim levels from time to time, so that took a little research. My old car's iGrand Touring (raspberries to whoever thought the i-prefix was a cool idea!) was the top of the line, but in late-model CX-5s there's one called Grand Touring that is in the upper end but still not quite top. That one is roughly equivalent in features to what my 3 had, so that's what I decided to aim for. I also decided early-on that my favourite colour of the available choices was the Deep Crystal Blue Mica, which is a dark metallic blue. I also decided that the Parchment interiour was what I liked better than the darker choice.
After some searching around, scanning the online inventories and visiting a bunch of dealers, I found one I really liked: a 2019 Grand Touring in Deep Crystal Blue Mica. It had the darker interiour, but it also had the GT Premium package, and to me that seemed like a quite acceptable trade-off. It had about 29500 miles on it, was a returned lease vehicle, and was in stunning condition- like the old 3, it looked and smelled new, not even a crease in the leather. Best of all, it was priced really fairly: I'd seen others that were priced higher but had more miles and weren't in as good condition and didn't have the GT Premium package. I wasted no time in making the purchase.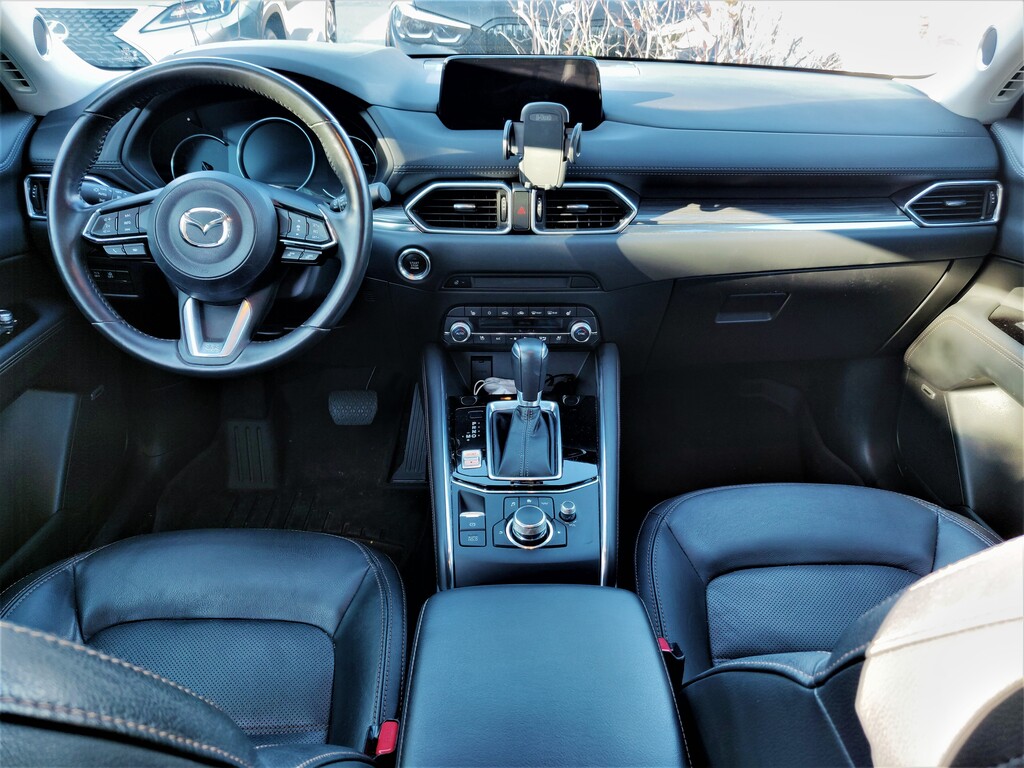 So what did I get for the money? The CX-5 is a medium-size, two-row SUV/crossover that feels very car-like. This one is front wheel drive, although as of 2022 all CX-5s are now all-wheel drive, which had been an option previously. The engine is a 2.5 litre four with Mazda's Skyactiv technology that makes it really fuel-efficient. Power output is 187 bhp, although if you get the optional turbocharger that goes up to 257. I chose to avoid the turbo as it sacrifices a few MPG for the extra power, and I'll forever miss the stellar highway MPG that the old 3 delivered. It is worth nothing too that unlike some other cars, with the CX-5 you get the same engine with or without the turbocharger. Some people are wary of turbos due to reliability concerns, but this engine has been around long enough to have a very well-established record of excellent reliability. The turbo version has been an option since 2016 and so far so good for its reliability as well. Interiour space is really generous compared to my old 3, although the cargo-space is supposedly smaller than in some competitors in the same class- but it's still large enough that I can't imagine having much of a problem with that. Handling is very car-like and is really excellent for such a tall and heavy vehicle. I'm reminded of what a pig I thought the smaller Subaru Crosstrek was when I put it through some swerves and tight turns during a 2015 test-drive. The CX-5 is a revolution by comparison to that and to other crossovers and SUVs, with tight,smooth road-holding. In the Grand Touring level, you get leather trimmed seats, with both front seats being electrically adjustable and the driver seat having lumbar adjustment and 2-position memory, which is very handy when you're married to someone who is not the same size that you are. There is a sunroof, Bose audio, heated seats and steering wheel, adaptive cruise control, lane guidance, navigation system, HomeLink, and more. The GT Premium package adds a heads-up display which shows speed, blind spot monitoring and road signs, and can also show navigation information when the nav-system is in use. It also adds SXM satellite radio, air conditioned front seats, heated rear seats, and probably several other features that I'm forgetting. The power-assisted hatch is a nice touch, and you can set the maximum opening-height,something that some more expensive vehicles don't let you do. And in a more qualitative assessment, the CX-5 is widely lauded for having the best interiour in its class, like what you'd find in something much more expensive. It's a lot of car for the money, a great value for sure.
I did research costs of ownership too. MPG is about the same in the city as my old 3 but a few points lower on the highway- but still isn't bad and rates well in its class, and really isn't bad when you consider that the CX-5 weighs roughly 700 lbs more than the old 3. Insurance is about $25 higher per month, not bad considering that it's a more expensive car. At current prices, a set of tires will run about a thousand bucks after all the taxes and fees, vs the $700 I spent replacing the 3's tires a week before it got crashed. So it will cost more to live with, but not by an extreme amount.
Of course the CX-5 needed a few accessories too. One is a cargo-cover. I was disappointed to learn that not only is a cargo-cover strictly optional for this vehicle, but it's also not the rigid type that my old 3 had. For the CX-5, the cover is a retractable type, much like the old roll-type window blinds. Mazda dealers want about $350 for the cover, but I found an aftermarket example for about $150 from a merchant who deals via eBay. It's easy to install and seems well-made. (note: since writing the first draft of this article, month after buying the cover, I have learned that a rigid cover was available from Mazda late in 2022. I may look for one of those at some point). I also decided that some rubber floor protectors were in order, and Weathertech make what are probably the best ones you can get, and their price isn't out of line with competitors' products. I got the set for the front footwells and also one for the cargo floor. These floor protectors are great, having raised edges that should contain spilled liquids, and the ones for the front footwells are compatible with the car's floor mat retention fasteners. I did not purchase the floor protectors for the rear seat foot area as it is quite rare for me to have rear seat passengers. Living here in the hot and sunny south, another vital accessory is a windscreen sunshade. I have a nice insulated folding one made to fit the old 3, and on a lark I tested its fit in the CX-5…and I was dumbfounded to learn that while not a perfect fit, it's comfortably close-enough to use, so no need to spend money on something new and I can get even more life out of this shade. As for the other windows, they were already tinted so that's another thing I didn't have to worry about. The final must-have accessory I needed was a phone-holder. I live in the Atlanta metro area, which has legendary traffic problems at times and the use of a navigation app that has real-time traffic data is a good idea even when you're already really familiar with where you're going. The CX-5 isn't the easiest car in which to use generic-fit holders for a variety of reasons so I did some searching to find something with a specific fit. What I found was a company called A-Tach who make a plastic bracket that is made to grab the upper pad of the dashboard of the CX-5, which can then be paired with any of the phone-mounts that A-Tach sell. The price seemed steep, but it still looked better than any of the alternatives so I bought it. Good news, it's a high-quality product that after a few months of use seems quite durable. Highly recommended!
As of the time of this writing, I've had the CX-5 for ten months and a little more than 6K miles so I'm now quite familiar with it. The short assessment is that I definitely still like it! It has been very easy to live with and has been a joy to drive. I still find myself looking at it with admiration when I'm in the garage and reveling in its overall delivery of satisfaction when I'm driving it. Friends have expressed admiration too. I've driven it everywhere from errands less than a mile from home to a trip to Springfield Missouri, 700 miles from home. What are my observations? Read on!
One thing I noticed right away is that the CX-5 is only slightly more challenging to park in my garage than the old 3 was, and one reason is because the external horizontal dimensions aren't that much bigger than those of the old 3. The CX-5 is wider by only 3.4 inches and longer by a mere 1.7 inches. The difference in width is particularly interesting because the CX-5's interiour seems MUCH wider than the 3's did, and since it's of a different design-generation, this could well be true. The difference in height is another story: the CX-5 is 8.2 inches taller than the 3. The roomy feeling of the interiour isn't aided as much by the extra overall height as much as one would think though, as the floor is also higher. And yet it does still feel much roomier, especially in front. I never spent much time in the back seat of the old 3 so I can't compare very well, but it does look roomier too, although since the length of the car isn't very different, the rear leg-room isn't very different either. This brings up one of the very few major gripes I have with the overall design of this vehicle, and it is shared with most of Mazda's US-market products. Mazda is now almost a decade into what it calls 'Kodo' design, which it launched upon severing ties with Ford. Kodo translates from Japanese as 'the soul of motion,' which supposedly has something to do with the inherent beauty of a living thing when it moves. I've found the aesthetics of Kodo-design Mazdas to be hit or miss, some better than others. Where it most often misses is in the front end of the car. For example, the front end of the current MX-5 (Miata in US-speak) looks to my eye like a catfish's face, a distinction not earned by any other car since the Daimler SP250, which ceased production in 1964 . All the Kodo cars have one visual element in common though, and that is having a quite long front end. Does it look cool? Sure. Is it really necessary? No, because the interiour could be longer, allowing more rear-seat legroom and/or more cargo-space, without having to make the whole car longer to accommodate. I'd wager that the nose of the CX-5 could be 8 inches shorter just by using more space-efficient design. If the overall vehicle length remained the same, that could translate into a lot of usable space! And besides, nobody will EVER mistake a modern Mazda for an E-type Jaguar (the epitome of long front ends!), so just ditch the super-snouts and put the extra space to work. Your customers will thank you for it!
Comfort on the road is great. The CX-5 achieves an excellent balance of smooth ride and competent handling. There are no distracting wind-noises around the doors or windows or anywhere, and the interiour stays quiet but not so quiet as to be disconnected from reality, from the things you need to be able to hear- just right for my taste. Some reviewers have complained that the front seats are too small. While I would agree that a larger seat would be really nice, the size isn't a problem. I'm a big and tall oaf, six feet four, big-boned, wide in the shoulders and hips and could stand to lose a few, and I find the seats to be just fine. We did the whole 700 miles to Missouri in one day and the same with the trip home, and I had no complaints either way. My wife Jennifer was feeling a little under the weather that weekend so she curled-up under a blanket in the back seat most of the way and was comfy enough to get plenty of good rest. The HVAC system works really well too, and the air conditioning does an even better job of keeping the car cool in the summer than that of the old 3, which on the hottest days seemed to only barely keep up. I have yet to meet a car that couldn't stay comfortably warm in our southern winters and the CX-5 doesn't have any trouble doing so either. The audio system is better than in the old 3 too, and the most-improved facet of that is the SXM satellite radio feature. In the 3, the satellite radio seemed like an afterthought, with poor sound and difficulty with consistent reception in some areas. Neither item is a problem in the CX-5. I do wish that the controls for equalisation consisted of more than just simple bass and treble, but I think that's more than what most of the target-market for this car needs or cares about.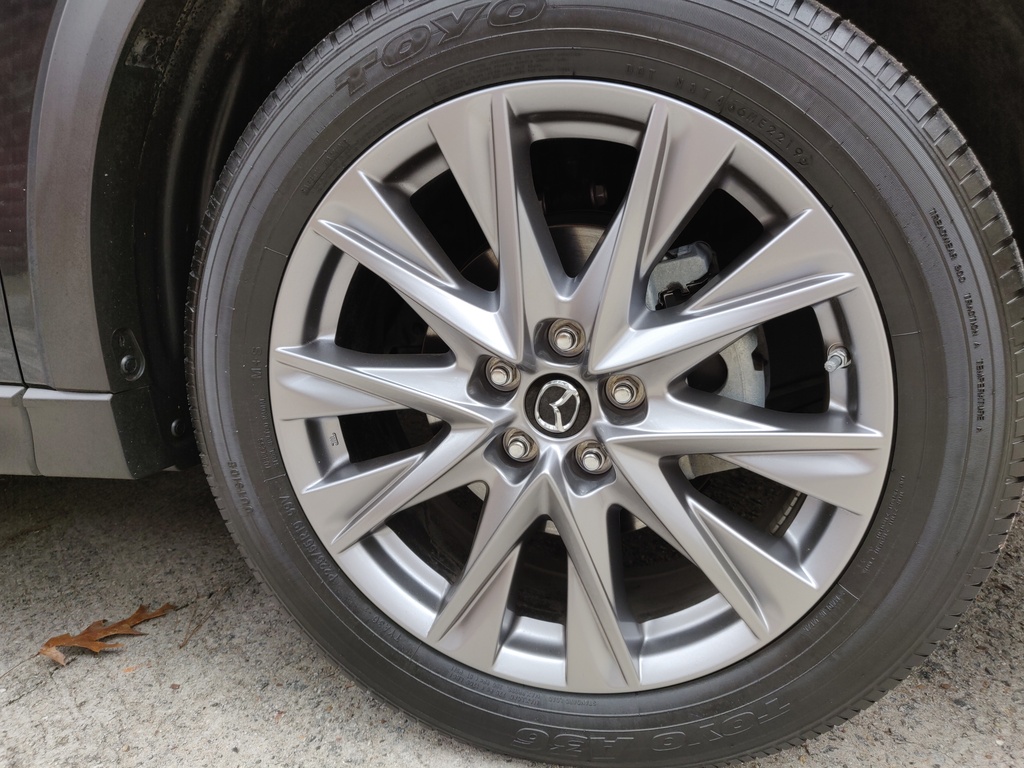 As with every Mazda in recent history, the driver experience is well thought-out and harmonious. All the controls feel good and assuring, and even the electrically-assisted steering feels better than most such systems. Throttle and brake sensitivities are spot-on and I have yet to notice even a hint of fade in the brakes. The automatic transmission does a great job of delivering power, and there is a sport-mode for when you're feeling zippy. Like most such settings, sport-mode increases the throttle sensitivity and also raises the RPM at which shifts occur. I don't use it much as it decreases fuel efficiency, but sometimes that extra zip comes in handy. The controls for accessories are easy to use too, with simple buttons to control the HVAC and a mixture of buttons, knobs and a screen to control the infotainment system. The screen is small compared to many vehicles, but this is part of the genius of the system. The screen is mounted high on the dashboard to place it as close as possible to the driver's view of the road, which means that you don't have to take your eyes off the road very far or for very long to catch a glance at the status of something. The screen is touch-sensitive, but it's a bit of a reach and you don't actually have to touch it- all functions can be accessed and manipulated through the large knob in the centre-console, and there are a few buttons right by the knob that offer some shortcuts through navigating the features. It does take a little getting used-to at first, but you'll be a pro at it before you know it as the layout of the system is fairly simple. I give high marks for ease of use, MUCH easier than some screen-based systems out there- looking at you with extreme stink-eye, BMW!
The instrument cluster is really good too. The tachometer and ancillary gauges have real needles, but the large central speedometer is a screen, however it looks close-enough to the appearance of the physical gauges that it fits right in. Why is it a screen? First, so that it may display in either MPH or KPH. But there's more to it than that: the driver can use a button on the steering wheel to select what the centre of the speedo-screen shows. There is a setting that just shows an image of a needle, or other settings that show things such as trip-odometers, compass, etc., all retaining the outer end of the needle that moves around the dial. The speedometer is also flanked by curved bar-gauge readouts for fuel range and MPG, and the number of miles of remaining range floats along right next to the top of the corresponding bar- a nice touch. Speaking of fuel level and related range, just like the old 3, the reserve left when the readings reach zero is generous- although in this car it's two gallons, as opposed to one gallon in the 3. Another nice touch is that the key is nice and slim. Why do so many manufacturer's keys have to be so chunky? The Mazda key is nice and unobtrusive in my pocket.
Of course the CX-5 isn't perfect, no car is. There are a few things in the negative column. Mazda has always been a little conservative with introducing new technologies in their cars, and sometimes in mixed ways. The CX-5 has a tire pressure monitoring system, but curiously, after more than a decade of having these systems in Mazdas, it still only gives a warning-light when the system alerts. There is no display anywhere in any of the screens that shows individual tire pressures. For a 2019 car, this is inexplicable. I hear you saying that a responsible driver regularly checks their tires, so this shouldn't matter. I agree with the driver's responsibility, but TPM systems make the job so much easier when you can see the individual readings. This also makes life easier when you get a low-pressure warning during inclement weather. But Mazda is OK with you having to crawl around in the rain or snow with a tire-gauge trying to figure out which tire is throwing the warning. Another thing you'd think that an otherwise very thoughtful company like Mazda would have figured out by now is sunshades. They flip down from the ceiling like in any other car, and they have little extensions that can slide out to fill in the gap between the end of the shade and the rearview mirror. But they are USELESS when rotated to the side window, to the point that you wonder why they bothered making them able to be rotated. Most car manufacturers now make their sunshades able to slide out on their rods to be able to offer useful shade for the side window, but Mazda has yet to get a clue about this. Why, Mazda, WHY??? It's completely out of character with your driver-focused philosophy of design. I have a distaste for the size of the wheel-arches too: they're needlessly HUGE. The wheels are not small, having rim diameters of 17 to 19 inches depending on trim, and yet they look too small and almost seem lost inside those huge arches. The wide black plastic trim around the edge of the arches only exacerbates this effect. Even if you need to fit tire-chains, it's a bit much. The rearview camera is good, but it lacks the steering-linked guidance that so many other cars have, another technological omission that like the lack of tire pressure data, seems pointless. Another small technological issue is that the infotainment system often seems slow to fully boot-up after starting the car, especially when it's playing satellite radio. And while the car's fit and finish are excellent overall, there are a couple of little details that betray this. One is the knob on the end of either of the steering-column stalks. There is a mold-line right across the end of the knob, and a little burr where the knob was cut off the molding sprue right in the middle of that line. The old 3 had this as well; it's annoying in both cars because it cheapens the impression of the car and once you notice it, your fingertip will be drawn to it. Annoying too that nobody ever thought to improve this. It's the kind of gaffe that is just out of place in a car that otherwise shows excellent attention to detail. At least you can smooth that out with very careful use of a razor blade, if it bothers you enough. Another detail-complaint I have is that some of the surfaces on the centre-console and the armrests on the doors are finished with shiny, glossy black plastic. This seems to be a trend the last few years with several manufacturers, especially Asian ones, and it's a really terrible trend because that shiny black plastic looks a little cheap and unimaginative, but more importantly because it REALLY shows scratches, and it scratches easily. But it's still better than plastic painted metallic grey or silver, which looks even cheaper. I'm thinking about seeing if I can have those black pieces covered with something a little more scratch-resistant. But none of these things should be a deal-breaker. They're all just annoyances, not operational shortcomings. The CX-5 is still an overall joy to live with.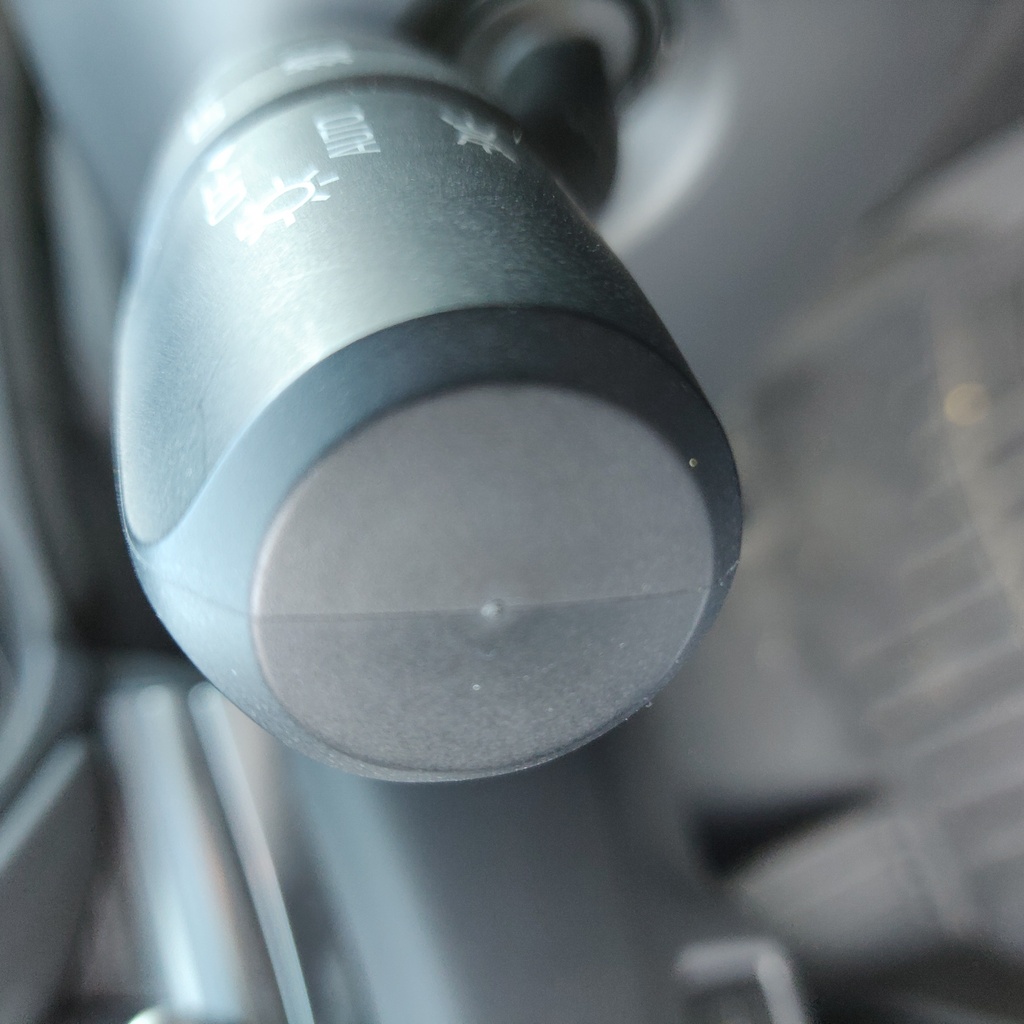 As of the time of this writing, the CX-5 has just been discontinued after being available for part of the 2023 model year with standard AWD, and the CX-50 that replaces it is starting to show up on the road. This means that if a new CX-5 is out of the question for you, very nice gently-used ones will still be available for a few years. The 2023 CX-5 had a starting MSRP of $26700, and the top trim Turbo Signature version with all options reached into the 40s. A quick look at Edmunds shows 2019 CX-5 Grand Touring prices ranging from $21400 to around $30K, with $26-28K appearing the most. The last time the CX-5 got a major re-style was for the 2017 model year and small updates have happened since. Trim-levels and optional equipment change from year to year, so there's something to appeal to all tastes and budgets. If you wanted a new one a few dealers may still have a few left and you might be able to get a clearance deal. Whatever you do, you'll find the CX-5 to be a capable, satisfying car that is really easy to live with. I definitely recommend it if a vehicle of this class is on your shopping list. Stay tuned for updates as I put more miles on mine.