Rental Car Review: 2019 Volvo XC60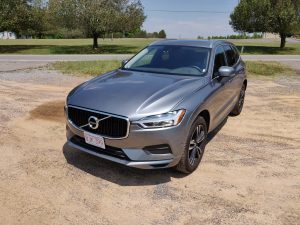 Lately I've been shifting much of my rental-car use to a different company because they have locations nearer me, which is a lot more convenient for getting myself on and off the road. The variety of cars usually isn't as nice or as interesting, and they don't have a full aisle from which to take my pick (three Impalas in a row…wake me up when it's over!), so this plus being crazy-busy on the job has made for fewer opportunities for Rental Car Reviews. But this week I got a little bit lucky. It's a short week due to a holiday on Monday, and in the remaining four days I've got one of those trips where I fly out and drive back, seeing customers along the way. The far point was Columbus Ohio, an airport where I'm usually disappointed by what they'll let one-way customers take from them, but this time was an exception- especially nice since my flight had been delayed.
The rental car agent asked me if a Volvo XC60 would be OK, and having almost nothing to inform the choice but knowing it was a rare opportunity, I said yes without hesitation. I knew that the XC designation made it one of the chunkier models, but I couldn't picture exactly which one. I knew that there were XC models and Cross Country models, but XC seems like an abbreviation for Cross Country so that muddies things a bit. Just to clarify the models up-front, I'll mention that the next day I checked Volvo's website and the Cross Country models are wagons and the XC models are SUVs. The XC60 is the middle of three models in the XC range. The XC60 has a starting MSRP of $38900 and can go up above an eye-watering $75000 if you tick enough boxes on the trim levels and packages and options. Staggering on one hand, but on the other, it's kind of cool to have such huge flexibility in one model. I had the low-end Momentum trim and the T5 Engine, a 250 hp 5-cylinder. That's right, FIVE. Not completely unheard of, but rare for sure and at least in the US market, only something you see from a few European brands.
The XC60 doesn't look that distinctive on first impression. Cover the front and rear faces -which are somewhat understated themselves- and at a quick glance you could easily mistake it for a similarly-sized Jeep Cherokee. But the Swedes have always been known for an aesthetic that is simple and clean while still being stylish and even beautiful when they really get it right. In my opinion they did get it right with the XC60. They styling is clean and balanced without being boring, has just enough accents, and looks like it belongs in Volvo's current lineup.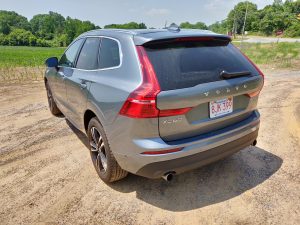 Inside, there's more understated Swedish goodness, with simple styling that's pleasant to the eye. The downside of this is that so many features and functions -too many in my opinion- are completely dependent on touchscreen control, and some of them aren't very intuitive, and by the end of the second day I still hadn't figured out how to manipulate some of them. To Volvo's credit, if all else fails the owner's manual is viewable on the touchscreen when the vehicle is not in motion. The Swedes are also known for a little bit of quirkiness, and one quirk became apparent as soon as I tried to start the engine. Like most modern cars, the XC60 uses a proximity-type key, which usually means pressing a button located either on the dashboard and almost always to the right side of the steering column, or in a few cases on the center console near the dashboard. No button in these locations. I soon found an oddly-shaped and interestingly-textured knob that was labeled as START located a bit farther back on the console, reminiscent of where Saab usually located their ignition locks. Instinct made me push down on it, which did nothing. Then I gave it a twist, and the engine started. The knob is spring-loaded and only turns a few degrees. Another quirk of this knob is that you turn it the same direction to shut off the engine.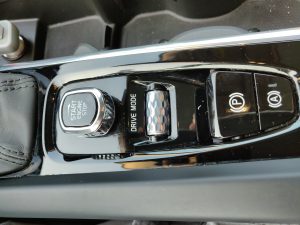 Another quirky control is the drive-mode selector, a cylindrical roller in the center console. It has its own interesting texture and you press down on it to bring up the mode menu, then roll it to scroll through the choices, then press down on it again to select the mode…then wait…an interminably long time…for the screen to revert back to whatever was on it before. The drive-modes are Eco, Comfort, Dynamic (high performance), and Off Road. Comfort is the default mode and sadly, it reverts back to Comfort when the car is shut off. I say sadly because I found that Dynamic mode had two advantages over Comfort: quicker passing on the highway, and much less lateral wiggle when going over less-than-smooth defects in the pavement such as patches and shallow potholes. In fact the amount of lateral wiggle caused by such defects was a bit shocking. Not dangerous, but quite noticeable, much more than should be expected from any modern vehicle. Other than that, the two modes felt the same going down the road. The handling is easy and responsive, and I had no problem carving some tight and twisty roads in the hills of West Virginia, although a more progressive steering rate would have been welcome in some sections.
While we're on the driving experience, I'll say that overall it's pleasant. The ride is smooth, maneuvering is easy, the controls give acceptable feedback, the turn-radius is good, and the brakes are quite competent. The various safety-systems all do their thing, and one in particular impressed me. There was a moment when everybody in front of me on the highway went into a panic-stop for reasons that were never apparent. As you may know from experience, due to accumulating human reaction times, the farther back you are in the line of vehicles, the more quickly you must react and brake to prevent hitting the car in front of you, sometimes faster that what a two-second-plus following distance will allow (read Traffic: Why We Drive the Way We Do (and What It Says About Us) by Tom Vanderbilt for some insights into this and other human factors in driving). I was on the brakes, smoothly but very firmly, and the XC60 responded in kind with all the stopping I needed, and no collision occurred- but the front collision warning sensors weren't happy and I got audible warnings, and the really impressive part was that the seat belt began to tighten and hold me firmly into the seat. This was no mere inertia-reel action; this was a motor retracting the belt gradually as dictated by the increasing forces of deceleration, and then gradually releasing it once I was off the brakes. I like that feature, and I hope to see it in more vehicles.
Another thing that worked really well was the air conditioning. It did a great job of cooling the car quickly on hot days, but I wish the fan was quieter. Being the warm part of the year, I didn't test the heated seats or steering wheel, but I did note that all four seats have heat, and the rear seat heat is controlled by buttons where the rear passengers can reach them. The front seats are really comfortable, enough to earn a spot on my comfiest car seat list, and are electrically adjustable in multiple directions. In addition to the usual fore-aft and seatback angle, the height and tilt of the base is adjustable, the lumbar is adjustable for both the amount of support and the height of the support, and the thigh-rest at the front edge of the seat is adjustable fore-aft. The lumbar and thigh support adjustments are a bit clever, using a circular button that can be pressed in any of four directions, surrounded by a ring with a tab on it. Push the tab down to select thigh support; pull it up to select lumber support. Luckily the screen goes to a pictorial guide on how to make these adjustments work whenever the tab is moved.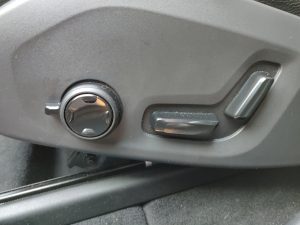 I have to give some credit for the design of the key. Its shape is kind of big and square, but it's thinner than just about every modern electronic key I've seen, which means that it's not a chunky bulky thing when it's in your pocket. The buttons are along the edges, and up next to the hole on top where a key-ring can be attached is a small slide-button that allows the release of the plastic cover on the side with the Volvo logo. Once this cover is removed, the physical backup-key is revealed, as are tiny words next to each button that explain what they do when given short or long pushes. Unfortunately, those words are not only tiny but also are merely molded into the plastic with no contrasting colour added, so you'll need both good eyesight and plenty of light to read them. There is also another slide that is revealed when the cover is removed, and this one releases the cover for the other side, allowing access to the battery, the size of which is indicated on the plastic so you don't have to look it up in the manual when it comes time to change the battery.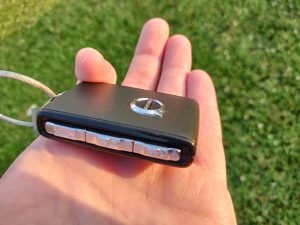 Cargo space is ample in back, and for this trip I had TWO Pelican 1610 cases to carry, plus my tool-backpack and personal bag. I managed to fit everything in back without going vertical into the cargo-cover's plane of existence. This cover is the retractable type, and a nice touch is the raised position you can click it into for easier access without having to fully retract the cover. The hatch is electrically operated, no surprise in this class of vehicle.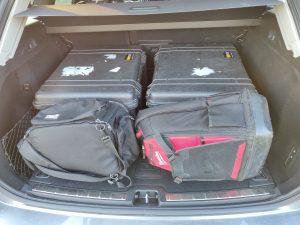 Volvo has been owned for the last few years by the Chinese automotive conglomerate Geely, whose holdings include Lotus and… Thankfully, Geely has taken a very hands-off approach with its holdings and allowed them to make cars their own way, building success the way they know how to do so. Like Volvos of the past, this one can be summed up as quirky comfort and after four days in the XC60 I almost didn't want to give it up. It was comfortable it and did everything well and with mostly minimal fuss. If I had to drive it long-term I would go through the manual and learn more about how to work some of those cryptic controls, so as a rental car that's a weakness- and possibly as a bought car too, since so much modern tech is so easy to use that some potential owners may find this discouraging. But if those few quirks don't bother you, give the Volvo a try. I enjoyed it and would not hesitate drive an XC60 again.