The Thing About Rental Cars
Rental car review: 2018 Cadillac XTS
by Ben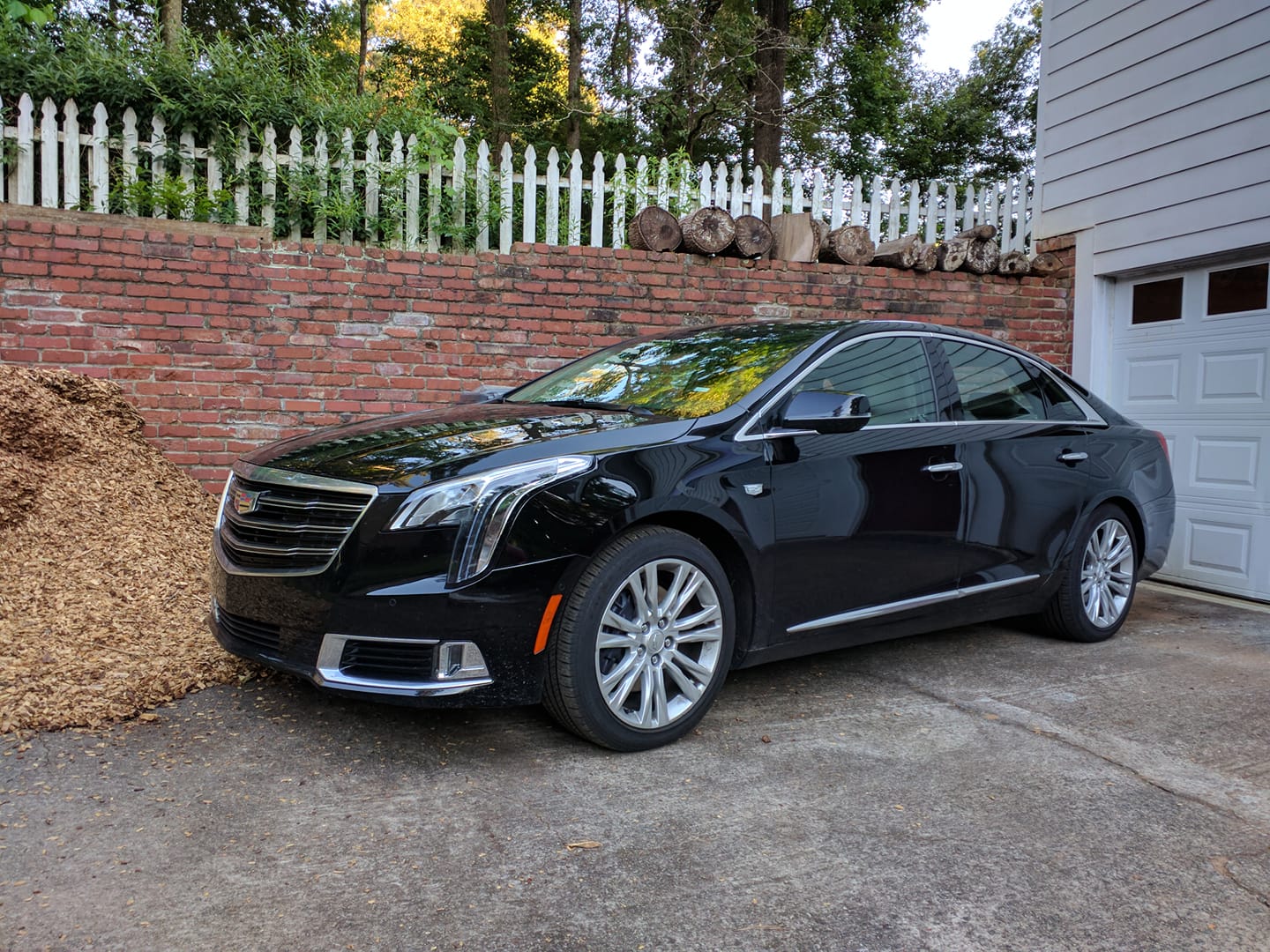 Sometimes life throws you curveballs, and sometimes those curveballs produce hits. This is what happened to me recently with another one of my biz-trip rental cars. The rental car company with which my employer has a contract has a location twenty minutes from home in the 'burbs, but that location recently shortened their hours- and because I didn't know about it, it had closed before I arrived and I was unable to pick up my car for the week's travels, which I needed that day due to an early departure the next morning. The trip was far enough that my employer would throw a fit if I claimed the miles on my personal car, and I also knew that it would be a fairly dull drive most of the way. After a few minutes of angrily fuming over the situation, I remembered the one place where you can get a rental-car just about any time of any day: the airport.
Picking up a car at the airport instead of another location has one definite advantage: airport locations have a special aisle for we who rent cars often enough to have earned special status with the rental car company. I can choose anything on that aisle for the same basic mid-size car price. I was wandering around the aisle, looking for something comfortable and interesting (and especially something on my list of cars for which I really want to write reviews) when an employee whizzing around on one of those broken-ankle-scooters cheerily informed me that there was a nice Cadillac right over there…
Cadillac. A name that comes with all kinds of baggage. Once regarded as 'the American Rolls Royce,' Cadillac has been through a lot of ups and downs over the years as it has fought to preserve its up-market status in a changing world. Cadillac is changing still, as according to a recent announcement, the sportier sedans built on the Camaro platform and designed to take-on the likes of the BMW M5 and Audi RS are being discontinued. The big, shiny, black Cadillac that was waiting for me wasn't one of those, it was the XTS- the larger, more luxurious sedan, and would probably be a DeVille if Cadillac would drop the ridiculous three-letter-name formula. It took me three days just to remember what this car was called, and the crossover model I reviewed a few months ago was called XT5- which looks a lot like XTS and vice-versa. Cadillac, I implore you to come up with some better names for your cars! For 2018 there are eight different trim-levels available including FWD and AWD options, and as near as I could tell, this one was the basic level with an MSRP of $47,390.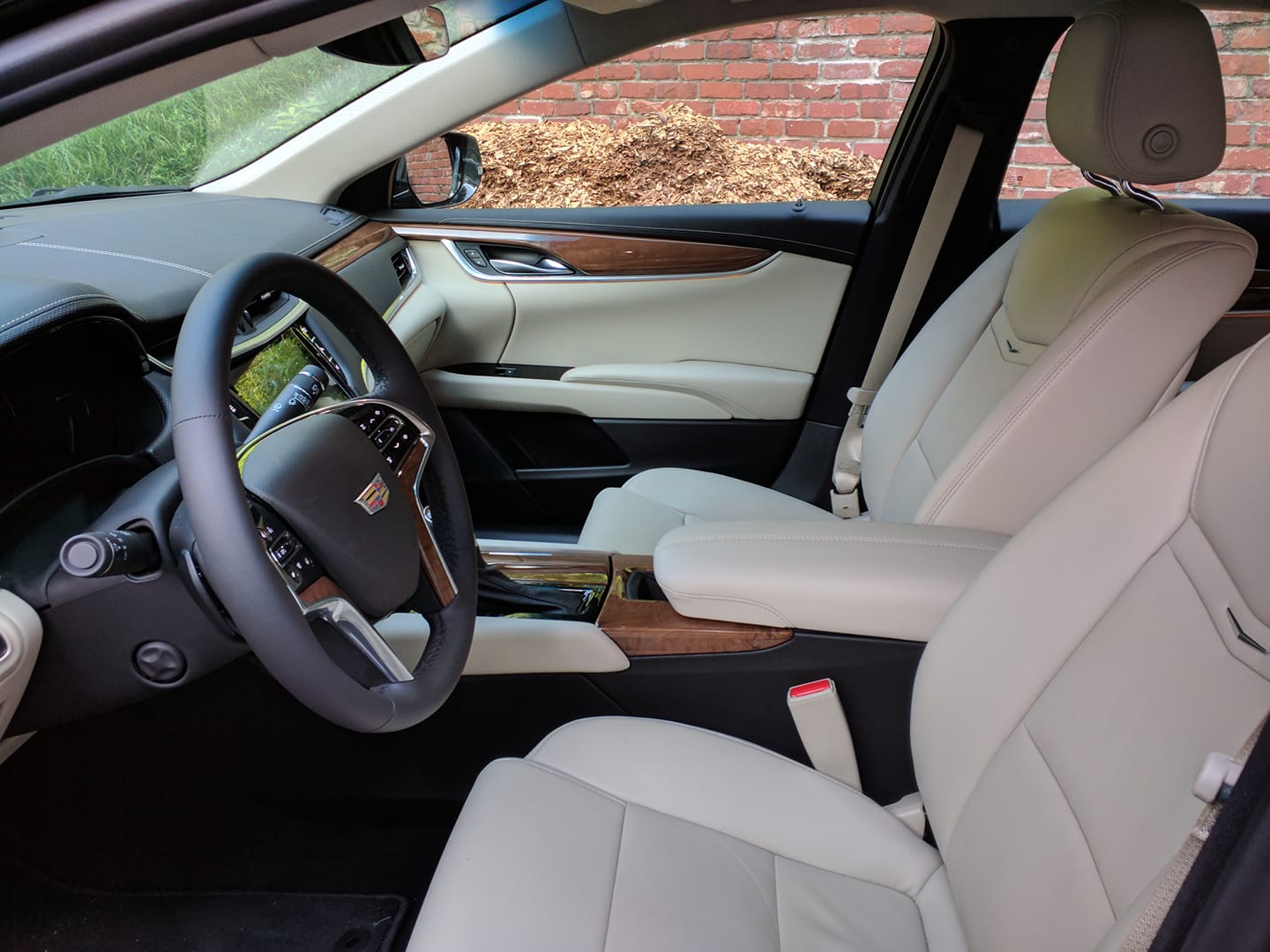 But names aside, this is a nice car. Once I slipped into the luxurious interior, I knew it would at the very least be a comfortable week. Every adjustment except the rearview mirror is electric, and yes, that includes the tilt and telescope of the steering column. I did have two small grumbles with the ergonomic adjustments. One is that the wheel can't be brought far enough out for comfort when the seat is as far back as a person my size needs, and the other is that the lowest setting of the seat's lumbar-adjustment was still just barely more than I wanted. But if you're built differently to me, these may not be an issue for you. The seats and several other surfaces are covered with a very good synthetic leather. For those not in the know, synthetic leather is more and more commonly used in luxury cars these days, as it has become so good that it is a worthwhile replacement for real leather. Fear not, the synthetic leather in the XTS is high-grade stuff and does not seem plasticky. In fact, one great thing about the interior is that you'd be hard-pressed to find a surface that looks like it should be soft but isn't. No leather-textured hard plastic to found anywhere, and almost every surface has some sort of padding behind it. The seats are comfortable, supportive bucket-types and are separated by a somewhat tall console which my right leg sometimes wished wasn't quite so close or high, but not enough to cause any major discomfort, and again, your comfort may be greater, especially if you're not as large as I am. I wouldn't say that these seats are as comfortable as those of the Chrysler 300, but they'll definitely do. The rear seats are basically roomy enough for my tall frame but overall the rear seat space is a little disappointing. All of the seats have perforated inserts in their contact areas, allowing ventilation to come through if you turn this feature on- and on a hot day, this feature is much-appreciated. Throughout the interior there is some trim that looks like wood, quite convincingly so, but sounds like plastic when tapped-upon. There is also some trim that looks like 'frosted chrome,' which Cadillac calls Pearl Nickel, which is used sparingly both inside the car and outside. Indirect LED accent-lighting is hidden in the borders between trim and upholstery in the doors and dashboard. This lighting is white, compared with the blue accent-lighting in the XT5. I didn't have time to figure out if the colour or intensity could be changed somewhere in a settings menu, but I sure hope so. The accent lighting isn't obtrusive at night, but when driving in dark areas I'd want to dim it. The carpet is good, but I've seen plusher carpet in lesser cars.
Audio comes in the form of an 8-speaker Bose system, which on one hand does sound good but on the other hand, lacks brand-luster since having little Bose-badges on the speaker grilles has become so common -even my Mazda 3 has them- that it's almost meaningless. There's a certain full-circle irony to this, since it was GM in 1983 that first made Bose audio a status-item in Cadillacs and Corvettes.
Outside, the XTS looks solid, heavy, and long. The styling does seem somewhat slab-sided but this seems to be used advantageously, and some softness and grace balance the hard angularity with which Cadillac went overboard on earlier models in the three-letter era. Up front, the grille alternates black horizontal elements with Pearl Nickel ones, the effect being a pleasing balance instead of too much or too little. The white LED daytime running-lights are in vertical elements that look good and somewhat match the vertical tail lights, which themselves are evocative of fins of the past- but in a very good, restrained, subtle way. In the center of the rear face of the trunk lid is a chunky Cadillac crest of the modern angular style. It's there for more than looks, as it also doubles as the button that releases the lid. I figured this out when I wondered where the button was, and seeing no place where it could be hidden along a bottom edge or in a light lens or trim-element, I gave the crest a push. A-ha, open sesame. The cargo space inside is huge, more than adequate for whatever you need to carry if such a car is your choice. Back outside, there is a 'shark-fin' antenna on the roof above the rear window as on so many cars these days, and curiously, I find that I don't notice it when looking at the car from most angles but I REALLY notice it when viewing from a rear-quarter angle.
The 3.6-litre V6 seems to be GM's main workhorse these days, and in the XTS it delivers sufficient power to move the big sedan with elegance most of the time and urgency when prodded. There's nothing special about this powertrain, and the automatic transmission it includes is an easy-to-understand PRNDL type with a manual mode, rather than the joystick-with-flowchart type I encountered in the XT5. Cruise control is the ordinary type, although adaptive cruise control and other fancy safety features are included in more expensive trim-levels.
Going down the road this Cadillac is exactly what you expect. It's easy to drive, quiet, smooth, refined- quite simply, what you expect from a luxury car. The handling is slightly surprising though, because while it is soft and smooth, it is also very good at keeping composed and gripping the road, and I noticed quite minimal body-roll despite the soft feeling of this 4000-lb car's suspension. Kudos to GM for this; the handling of my stepdad's Cadillac 30 years ago seems so primitive by comparison. The brakes are great too, and by that I mean that they do their job well enough to have no second thoughts about the brakes- they just simply stop the car very effectively, yet smoothly and unobtrusively enough to not draw attention to themselves. Less impressive is the MPG, which slogs in at a claimed 17/26. The technology exists to do better, even in big heavy luxury cars, and we should expect better.
Of course the XTS has its share of quirks too. One is a hidden compartment in the dashboard. I didn't even know it was there until, upon accidentally touching the trim-piece that magically releases it, the climate-control console swung up out of the way to reveal a compartment that could probably hold a softball, and definitely your keys and wallet and all but the largest mobile phones. The glovebox was almost as mysterious, with no visible latch or button to open it. I dug all around the edges looking for a hidden latch, then tried pressing around the edges in case it was a push-to-release latch. No joy. I was about to wonder if in fact that part of the dashboard was just a trim-panel rather than a glovebox door, when I saw some small white letters on the shiny black trim around the center part of the dashboard where the infotainment screen lives, that indicated that maybe that was how to open it…touch the plastic in that spot, and the glovebox opens- although you still have to close it the old-fashioned way. Other quirks are less fun. One is the dashboard vents, which can't be aimed higher than approximately horizontal. The reverse-camera is another disappointment- I've seen better ones in much less expensive cars, including GM products.
But quirks aside, I really enjoyed my time with the XTS. There's something satisfying about motoring down the road, knowing that you're at the helm of a big black Cadillac. It feels good, it feels rewarding, and it feels like you're somebody.
[foogallery id="207″]